Two ways of thermal conductivity
When it comes to heating, we usually pay attention to the power consumption and price of heating products while ignoring the heat transfer method. In fact, knowing how heat energy is delivered will solve some of the problems encountered and help us choose a more scientific choice of heating products. There are two ways to transfer heat energy: radiation and convection.
Radiant heating: Everything with an absolute temperature above zero will produce thermal radiation. The higher the temperature, the greater the amount of radiation. Think about the sun. While radiating heat outward, an object absorbs the heat radiated from other objects. The heat generated by radiant heating will be directly absorbed by the human body and objects. Without heating the air, it will not be dry and the room temperature will be balanced. The increase in air temperature is only caused by the heat emitted by the object, so the room temperature will be lower than the temperature of the body feeling. Take Aster wide-angle radiation heating plate as an example, the room temperature setting can be 3-5 degrees lower than other heating methods, and the same warmth can be achieved. Experience, so it is much more energy efficient than convection and conduction products.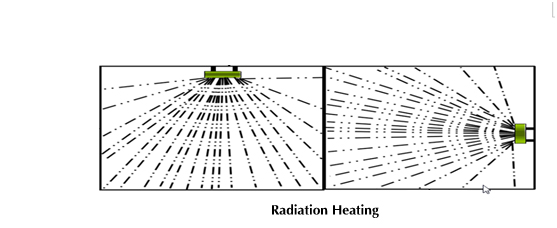 Convection heating: The theory is that the hot gas rises and the cold air sinks, thus forming a cyclical movement of the air flow. The core of convection heating is the imbalance of heat and cold, so the indoor temperature is also unbalanced. The body's upper body has a high temperature, and the feet and even the legs are at a low temperature, causing discomfort. In addition, air movement will bring ground dust into the air and be easily inhaled into the body. This is why people with sensitive respiratory systems may feel uncomfortable during the heating period.Another principle is to heat a part of air first, and then this part of air transfers heat to the next part. Air conditioning is a typical example of conductive heating. The core of conduction is heated air, so the moisture in the air evaporates during the heating process, causing the air to dry and lack oxygen. When people are in a dry environment for a long time, they will lose water in the body, the skin will be dry and sensitive, and cause respiratory diseases. In addition, dry environments can cause increased static electricity, as well as the growth of bacterial viruses.

Therefore, radiant heating is a comfortable and energy-saving heating method, and it is the most ideal heating method at present. Aster far infrared heating plate is a wide-angle radiation heating product, which has obtained EU CE certification. Its comfort, energy saving, environmental protection and safety have been highly recognized by European customers.
Know more about Asterheating, please click here: http://www.asterheating.com